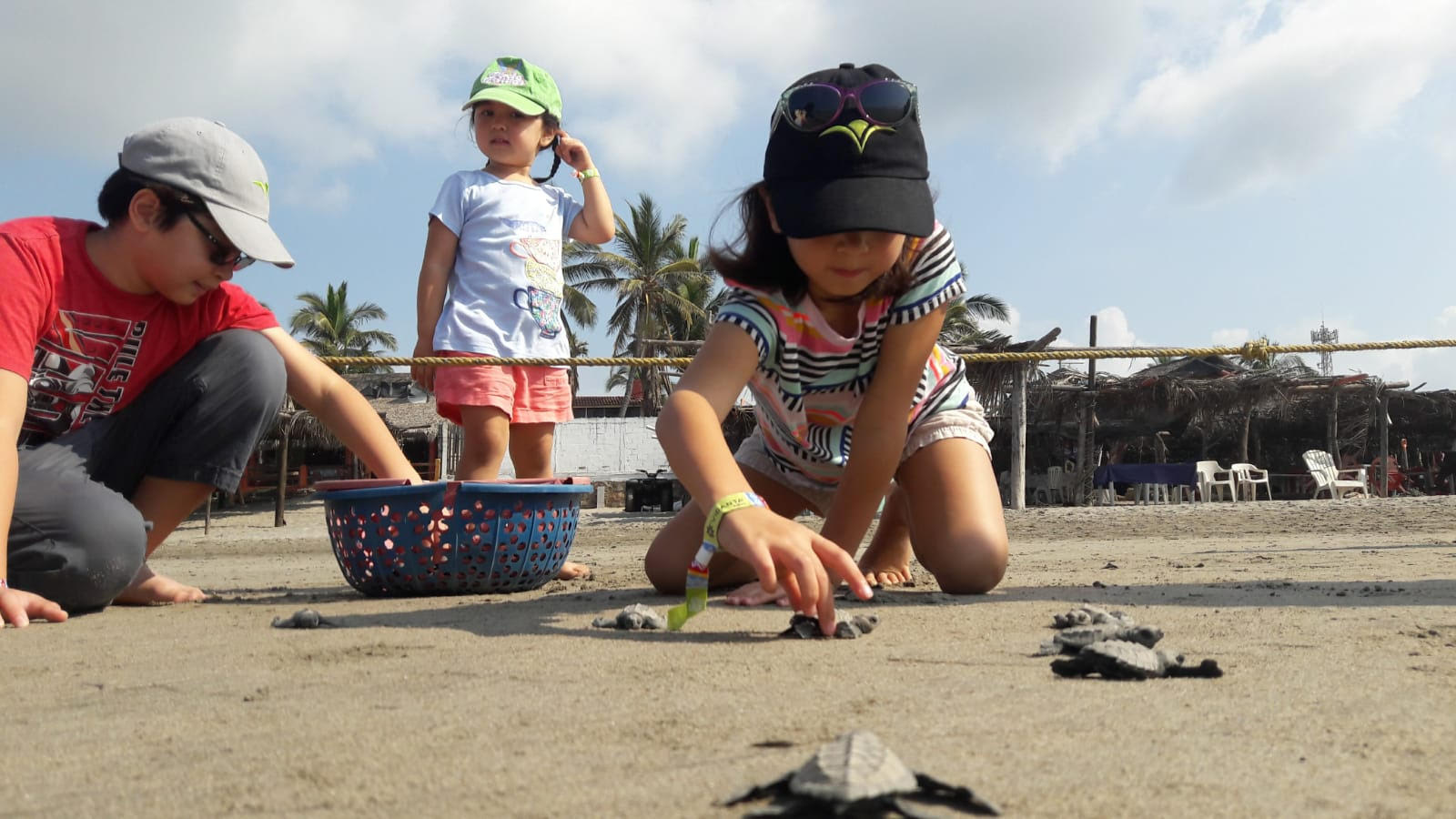 SOUTH DISCOVERIES ECO-TOURISM ACAPULCO
Departure diamond zone: 9:00 AM.
Departure main avenue: 8:20 AM.
ECO TREASURES -An awesome Day Trip, this version included:
Hotels Pick up – Drop off.
Cruise Ship Pick Up – Drop Off in a timely and convenient manner.
Baby Turtle Release (upon availability).
Croc farm visit.
Bird-watching.
Lagoon Boat cruise by tropical mangroves.
A light or 3 course full lunch, no spicy.
(Rates of the tour vary by group size).
5 Hrs -Eco treasures, an awesome day tour-
LIGHT LUNCH:
1 Person: $120 Each.
2 Ppl group $73 US Each.
3-4 Ppl group $52 US Each.
5-6 Ppl group $45 US Each.
7-12 Ppl group $40US Each.
6 Hrs Eco treasures, an awesome day tour 3-course
LUNCH INCLUDED:
1 Person: $135 Each.
2 Ppl group $92 US Each.
3-4 Ppl group $77 US Each.
5-6 Ppl group $65 US Each.
7-12 Ppl group $60 US Each.
OPTIONAL:
Upgrade this combo Eco treasures an awesome day- with Horse Back Riding on the beach (1Hr) +$27 US EACH.
Or switch "the horseback riding on the beach instead of the "lagoon boat cruise through mangroves". Only if you tell us in advance.-Thanks.
Horse Back Riding on the beach can be tailored for both complete beginners and experienced riders, so you can gallop along the beach, and soak up the scenery of the wild diamante beach.
No experience necessary: suitable for first-time riders or experienced riders. The kids always enjoy horseback riding. (HORSEBACK RIDING ON THE BEACH ONLY IF THIS OPTION IS SELECTED AS AN UPGRADE OR SWITCHED IT).
DESCRIPTION OF TOUR:
Get picked up from your hotel or cruise port by your expert guide and experience an enchanting day at the charming fishing village Barra Vieja in playa diamante área (40 minutes away from downtown Acapulco) for your eco-tour wildlife adventure. Once accommodated comfortably in the sedan car/minivan with air conditioning your awesome day tour begins.
This is a valuable opportunity to give the visitor genuine contact with the essence of nature. For nature enthusiasts who love being close to the great outdoors, your enthusiasm for the natural world is a big part of who you are.
First stop.
Begin your environmental adventure by helping send a newly born sea turtle out to the sea. –You will visit a sea turtle conservancy camp, this is a small conservation location to protect them from human and environmental predators. Your English tour guide will teach you about their anatomy, feeding habits, breeding, migration patterns, evolutionary history, predators, and habitat. Then be led by your guide to a sandy stretch of beach with a container of tiny turtle hatchlings and head back home.
Crocodile is one of Acapulco's most popular wildlife sanctuaries, located on the edge of the coast neighborhood name barra Vieja on playa diamante an easy 45-minute ride from downtown. The presentation is clear to hear and very informative with a dash of humor. Friendly staff and plenty of crocs to see make it worth the trip. Get a safe holding photo with a baby crocodile at no extra cost on your camera (optional).
Lunch & Tropical Jungle boat ride through mangroves & birdwatching ecosystem ride.
-We'll arrive at the famous lagoon of Tres Palos, where we'll board a motor boat and take an amazing (1.5-hour) ride through calm waters. Watch for a dazzling array of wildlife, such as exotic birds, tropical fish and more as your expert guide fills your trip with amazing facts about what you're seeing with photo opportunities abound in this special area of Acápulco. A long jungle tour awakens your senses to the distinct calls of kingfishers, flamingos, gran grey egrets, great blue herons, woodpeckers, and more. After disembarking a light lunch or 3-course lunch would be served.
LIGHT LUNCH: Guacamole and chips and our popular Mexican picaditas and one soft drink.
3 COURSE LUNCH, as an entree: guacamole, chips, fish empanadas and picaditas snacks, rice with fresh salsa, as the main course: To choose from Chicken breast or Pescado a la Talla (marinated grilled fish talla-style) this amazing dish (red snapper or sea bass) is our traditional plate from Acapulco cuisine, the marinated is nonspicy but giving it even more flavor and moist.
NOTE:
Prices above include transportation for (diamond area) hotels in Acapulco.
For AVE escenica. Costera Miguel Alemán Main road (golden and old district) where Acapulco hotels are downtown and from the CRUISE ship terminal, it will be an extra cost to this tour of $15 US TOTAL, NOT PER PERSON. (KINDLY CHECK YOUR AREA).
PAYMENTS:
CASH –For the full cover after the tour, we accept most major currencies such as MNX Pesos or USA.°Currency: 20 Pesos to $1US
CREDIT CARD (our card reader after the tour).
PayPal. You can make also a security deposit or full cover online through the PayPal option (4.5% convenience fee) It normally takes 3-4 working days for transfers to reach our bank account. Please allow sufficient time for this as we need to receive the transfer before you check out/depart.
"It will be our pleasure to be your driver or expedition leader providing you with a memorable experience in Acapulco"
For international reservations dial: (Call, text, or WhatsApp available).
Feel free to contact me for any inquiries! I'm here to answer all your questions and concerns before your tour or activity begins. We would love to hear from You Soon!
Write us a review about your experience
OUR CUSTOMERS SAY ABOUT US
There are no reviews yet. Be the first one to write one.
City Tour- June 23 Was a great way to see the city. Favorite part was seeing the chapel of peace. The views are breathtaking.
Deep Sea Fishing With Acapulco For All My family (including kids 9 and 5) took a deep sea fishing tour through Acapulco For All with Sebastian Hernandez. We were out on the water for over six hours with Captain Carlos. Sebastian provided sandwiches and drinks and picked us up and dropped us off from our resort. My husband has been trying to catch a marlin for years and he finally caught one that was about 150 pounds and about 9 feet long! The kids loved seeing sea turtles and dolphins out in the wild. Highly recommended!
Lucha Libre and Tacos with Acapulco For All My husband, kids (9 and 5), and I booked this tour through Acapulco For All with Sebastian Hernandez. We began the evening with tacos from an excellent little restaurant where we were able to eat outside and watch people walk by and listen to street musicians. The tacos were honestly the best I've ever had. We all really enjoyed the lucha libre show. Our kids particularly enjoyed playing around in the ring between matches. Our son has asked several times if we could go again. Our daughter was at first a little scared of the wrestlers, but when she got to meet them and take pictures with them throughout the evening, she saw that they weren't scary and enjoyed the evening a lot. The food, the show, and Sebastian's service were all excellent! Highly recommended for families with kids who want to experience a little of the real Acapulco.
Excelente servicio Excelente servicio, muy puntuales, muy profesionales y serviciales, los vehículos en excelentes condiciones y hasta con bebidas de regalo
Acapulco 6hr tour Our driver Hernandez was the best, took great care of us very informative would definitely recommend
Acapulco day tour We had an excellent tour with Sebastian, he was very knowledgeable about Acapulco. Being born and raised here he knew all the right places to show us. He also speaks very good english. Chapel of peace is a must. The views are to die for. Drove to old Acapulco, we also stopped at Hotel Flamingo which at one time was owned by John Wayne. The cliff divers were spectacular, we had lunch on the beach and the food was delicious. We loved Acapulco and felt completely safe, I'm sure there are shady areas in Chicago or New York too. I will come back here. Give sebastian a call for a day tour!!!
Very knowledgeable and accommodating The trips from the airport and back were flawless. I was so impressed I hired him for a tour of Acapulco, you will not be disappointed.
TOUR FANTASTICO E INOLVIDABLE Ha sido una grata e inolvidable vivencia, desde el momento en que nos comunicamos con Ricardo para acordar el tour, fué evidente su amabilidad, esmero y empatía, nos inspiró mucha confianza y ¡El TOUR FUE FANTASTICO! ,con la historia y explicaciones detalladas de Ricardo de cada lugar, de una manera tan profesional y amena. Amamos cada lugar que visitamos por su encanto propio, es un tour muy completo y nos dió los espacios para tomar fotografías, finalizamos degustando un delicioso y típico tamal de cazón, en "La cabaña" en playa Caleta.Gracias infinitas Ricardo y Juanita por sus atenciones y hospitalidad, nos hicieron sentir como en casa, , son un gran y solidario equipo.
Honest, trustworthy shuttle service Having a great contact like Sebastian to coordinate pickup and drop off to the airport was invaluable. It took away all our stresses about how to get to the house we're starting at and we even asked him to coordinate a bunch of day trips for us. Super trustworthy service.
Super Fun Mexican Wrestling! What an entertaining evening, filled with great characters and brilliant wresting antics. The whole crowd was into it and it felt so exciting and authentic. I think the parents laughed even harder than the kids did!